Best 6.0 PowerStroke Tuners - Ford 6.0L Diesel Tunes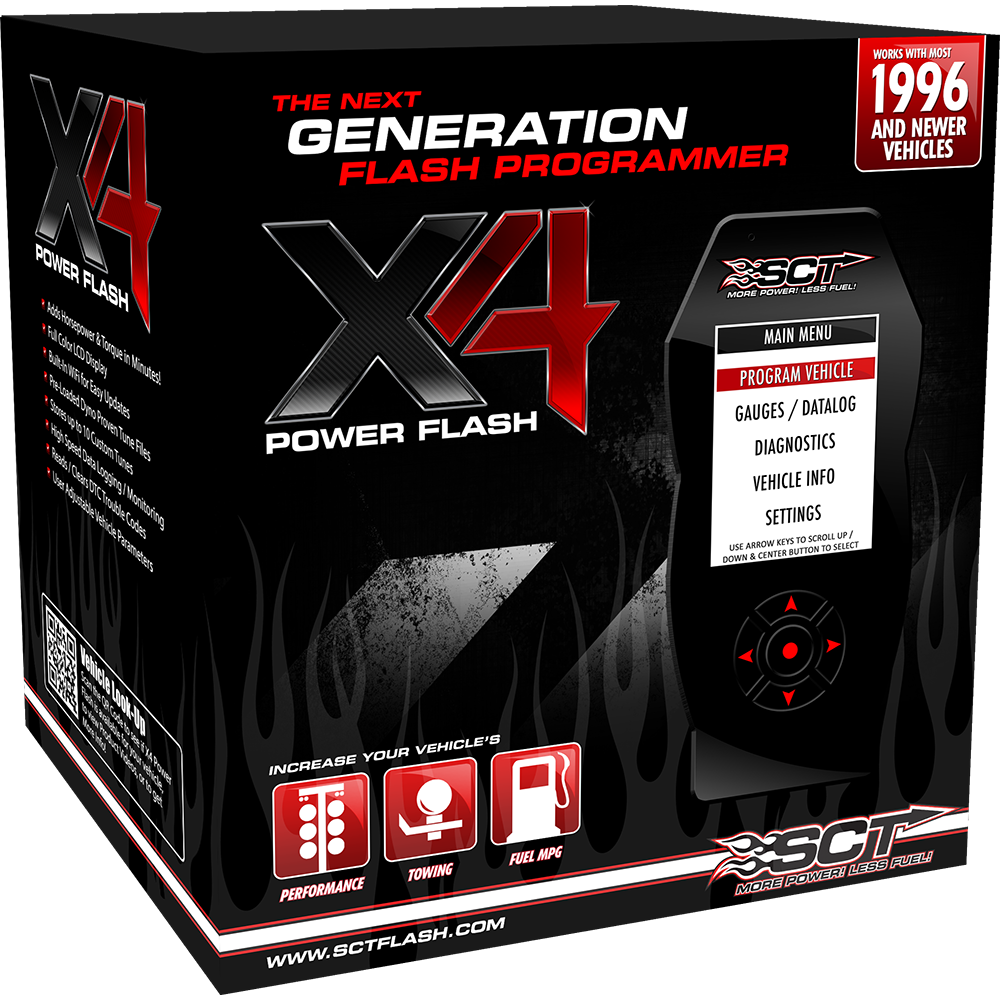 The Ford 6.0 Powerstroke was the beginning of a new chapter for Ford. Replacing the outgoing 7.3 Powerstroke, the 6.0L offered new innovations like a variable geometry turbocharger, 4 valves per cylinder head, and a new fuel injection system. All of these aspects culminated in an engine that was more powerful and efficient than its 7.3L V8 predecessor.
While 325 horsepower and 560-570 lb-ft of torque is nothing to scoff at, Ford Powerstroke diesel engines are notorious for their power potential. With a few easy-to-install modifications, it is possible to see multiple-hundred horsepower gains and a similar torque gain from a 6.0L Powerstroke turbodiesel. Leading the charge when it comes to value-for-money modifications is a quality 6.0L Powerstroke tuner.
A tuner for your 6.0 Powerstroke can transform your rig into an entirely new beast. From ludicrous power and torque gains to better throttle response and shift times, a quality tuner might be the best all-around modification for the 6.0L Powerstroke V8. In this guide, we'll take a look at some of the best that the 6.0 Powerstroke tuner market has to offer and compare their pros and cons.
How Does A 6.0 Powerstroke Tuner Work?
The ultimate goal of a 6.0 Powerstroke tuner is pretty straightforward; they are designed to increase the power and torque of your rig. With a turbodiesel, the recipe is pretty easy. Most of the time, aftermarket tuners flash your Powerstroke's ECU with new code to change multiple parameters of your engine and transmission. They typically do this by transmitting information to the ECU via the Powerstroke's OBDII port. Most off-the-shelf 6.0L Powerstroke tuners come with pre-installed tunes. These tunes generally offer varying levels of power, torque, timing advances, and transmission intensities.
While 6.0 V8 tuners all aim to do the same thing, they come in many shapes and sizes. For example, some 6.0 Powerstroke tuners only allow you to choose from and install premade tunes that come with the device. Others allow you to download and install custom tunes to meet your individual preferences. Some tuners have a built-in monitor display so that you can monitor engine parameters in real-time. Others simply plug into the OBDII and are unplugged when the tune install is done.
Beyond simply increasing boost levels and fueling parameters, some Powerstroke tuners offer additional benefits. Tuners like the SCT X4 allow for custom transmission tunes, making shifts smoother and more immediate. It also acts as an engine code reader and code clearer for diagnostic purposes.
Best 6.0 Powerstroke Tuners
Obviously, the term "best" is subjective. With so many 6.0L Powerstroke tuners on the market, it can be hard to come to a definitive answer. However, some 6.0 Powerstroke tuners provide additional benefits that make them standout options. Of course, it all depends on what you expect out of a tuner and how you intend on using it.
Some 6.0 Powerstroke enthusiasts are looking for a simple plug-and-play tuner that provides basic power and torque gains from preloaded tunes. These are generally the least expensive types of 6.0 Powerstroke tuners, as they lack much of the customizability and features of more expensive options. They are the easiest to operate, though.
Other 6.0 Ford Powerstroke enthusiasts might be looking for a tuner with a bit more functionality and grunt. Tuners like the SCT X4 Performance tuner come with preinstalled tunes but also allow for custom tunes to be downloaded and installed. These mid-range tuners usually also provide good monitoring capabilities. This is where you tend to find the best balance between features and cost.
If you're looking for a large monitor/tuner combo for your 6.0 Powerstroke, you'll have to up your budget a bit. These types of tuners are unquestionably the most all-inclusive, feature-wise, but they are also the most costly for that reason.
In the following section, we'll outline the best 6.0 Powerstroke tuner options from each of these categories.
SCT X4 Performance Ford 6.0 Tuner
Price: $419.00
When it comes to Powerstroke tuners, one name rises above the rest. SCT Performance has been in the diesel tuner game for over two decades at this point. As a result, they unquestionably know what they are doing when it comes to unlocking the full potential of a 6.0 Ford Powerstroke engine. The SCT X4 6.0 Powerstroke tuner is their top-of-the-line model and is almost universally celebrated in the Powerstroke community.
The SCT X4 comes with four pre-loaded performance tunes that are tailored specifically to the 6.0 Powerstroke engine. This ensures maximum power gains and improved drivability. Each of the four preloaded tunes is individualized for a specific purpose. These include a towing tune, a street tune, a performance tune, and a transmission-only tune.
With the performance tune installed, you can see up to an additional 150 horsepower and 250 lb-ft of torque from your 6.0 Powerstroke V8. You aren't limited to the pre-installed tunes either. The 6.0 Powerstroke SCT X4 allows for the storage of up to 10 additional custom tunes from your custom tuner of choice.
On top of all of that, the SCT X4 can also adjust and modify countless other engine and vehicle parameters. A few include axle ratio, tire size, speed limiter, rev limiter, idle speed, traction control, WOT shift points by gear, shift firmness control, and exhaust braking. With these functions, the SCT X4 ensures that you get the very most out of your 6.0 Powerstroke no matter what modification you choose to install.
The tuner also includes built-in diagnostic features, allowing you to read and clear trouble codes, monitor engine parameters, and troubleshoot any issues that may arise. Ultimately, we rate the SCT X4 as the best 6.0 Powerstroke tuner on the market.
Standout Features:
Gain up to 150 horsepower & 250 lb-ft
Improved throttle response
Includes 4 preloaded tunes
Stores up to 10 custom tunes
Over 10 user adjustable features (more details on features below)
2.6" x 5.5" full color LCD screen
Large variety of display gauges for monitoring and datalogging
Edge Evolution CTS3 Ford Powerstroke Tuner
Price: $419.00
While the SCT X4 is unquestionably our number-one choice for a quality 6.0 Powerstroke tuner, the Edge Evolution CTS3 is a close runner-up. While the SCT X4 puts more emphasis on the tuning side of things, the Edge Evolution is more monitor-focused. With a 5" auto-dimming touchscreen, the Edge Evolution CTS3 6.0 Powerstroke tuner provides one of the largest all-in-one tuner/monitor screens on the market.
The tuning features of the Edge Evolution CTS3 are limited to the three pre-loaded tunes that come with the device. With the highest-performance tune installed, you can expect an additional 100 horsepower and 200 lb-ft of torque from your 6.0 Ford Powerstroke V8. While those are some impressive numbers, the lack of custom tuning support might be a dealbreaker for some people. Ultimately, there's no question that the Evolution CTS3's monitoring features are the standout.
In terms of what you can monitor on the Powerstroke CTS3, there is support for monitoring transmission temps, load percent, RPM, boost pressure, engine temperature, and many other important engine parameters. Additionally, the Evolution CTS3 acts as an engine code reader, allowing you to delete trouble codes as well. All of the CTS3's gauges and the overall interface can be customized to suit your preferences.
At the end of the day, the Edge Evolution CTS3 is a good option for those looking for a monitor/tuner combo that provides moderate power gains without any fuss. Obviously, without custom tuning capabilities, the CTS3 is lacking a major aspect that many 6.0 Powerstroke enthusiasts are looking for. However, it is a good plug-and-play option for those that don't want to get into the nitty-gritty.
Standout Features:
Power levels designed for daily driving, towing, performance and extreme
Simple installation just plug into OBDII port. No wiring required
Monitor key vehicle parameters like trans temp, boost, RPM and dozens more
Full color, 5 capacitive touch screen with auto-dimming
Offers crystal clear data at your fingertips
Highly customizable gauges and backgrounds
Boot up directly to gauge screen upon key cycle
SCT Livewire TS+ 6.0 V8 Tuner
Price: $599
Rounding out our list, we have the SCT Performance Livewire TS+ 6.0 Powerstroke tuner. In many ways, the Livewire TS+ is the perfect combination of the 6.0 Powerstroke tuners listed above. It combines the dyno-proven, custom-tuning support of the SCT X4 with the advanced monitoring features of the Evolution CTS3. The only thing holding back this all-in-one tuner is its price.
Like both of the above 6.0 tuners, the Livewire TS+ comes with pre-loaded SCT tunes ranging from tow-oriented tunes to performance-oriented ones. With the high-performance tune installed, you can expect to see a power increase of 120 horsepower and 248 lb-ft of torque. The tunes also come with built-in transmission tunes as well, making shifts smoother and crisper. Unlike the Evolution CTS3, the 6.0 Powerstroke Livewire TS+ allows for the storage of up to 10 custom tunes.
While slightly smaller than the Evolution, the Livewire TS+'s 4" color touchscreen provides ample space to monitor numerous engine parameters at one time. While some 6.0 V8 tuners leave a digital footprint when a tune is installed, the Livewire TS+ leaves no trace if you choose to return your engine back to a stock tune. All of the Livewire TS+'s gauges can be modified and customized allowing you to get creative with your monitor display.
While the SCT Livewire TS+ is a fantastic monitor/tuner combo, it is let down a bit by its price. At nearly $100 more than the SCT X4, it is hard to argue that the Livewire TS+ is better value for money. However, if having a lot of screen real estate is important to you, the SCT Livewire TS+ is a solid 6.0 Powerstroke tuner option.
Standout Features:
Gain 120 Horsepower & 248 Torque!
Color 4" Touch Screen Display
Rear View Camera Input
Pre-Loaded Dyno Proven Tune Files
Also Holds up to 10 Custom Tunes
Automatic On / Off / Sleep Mode
Reads / Clears DTC Trouble Codes
Built-In Performance Calculator
High Speed Data Logging & Monitoring
User Adjustable Tune Options
User Selectable Graphics & Gauge Layouts
Best 6.0 Powerstroke Tuners Summary
With the amount of variety out there in terms of 6.0 Powerstroke tuners, option paralysis can set in quickly. This is amplified by the fact that there are several tuner types that vary significantly in terms of features and price. Some basic 6.0 Powerstroke tuners only provide preloaded tunes with good monitoring features. Others allow for custom tuning and basic monitoring. And even others combine custom tuning with advanced monitoring.
The Edge Evolution CTS3 is a good option for those looking for a basic tuner with top-of-the-line monitoring. As the Evolution is made primarily as a monitor first, it lacks custom tuning which is a major downside for some avid 6.0 V8 tuners. In contrast, the SCT Livewire TS+ combines the best of both worlds with custom tuning support and advanced monitoring capabilities. However, its steep price tag stifles it a bit in the value-for-money department.
In our experience, the SCT X4 6.0 Powerstroke Performance tuner is the best all-around tuner for the 6.0 Powerstroke at the current moment. Between its impressive 150 horsepower and 250 lb-ft torque bump out of the box, support for custom tuning, advanced monitoring capabilities, and affordable price, the SCT X4 is the most solid package for the money.